Well..it has been a bit since I posted to this site...lots of things have changed, been sold, been purchased.
Lets see....
iFlites
...we still have a rainbow of colors on hand, and there is only one iFlite II left (in green if you are interested)....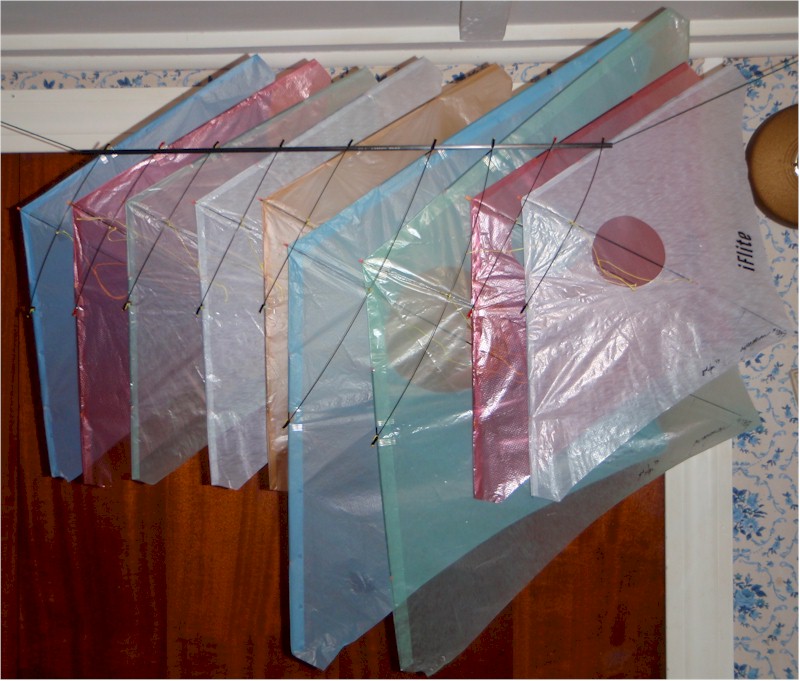 I was lucky enough to get my hands on a Cuben Hawk designed and made by Doug Stoat of Falcon Aero Designs. You may remember him as making a handful of sport kite models in the 90s...well Doug is back and is working with Cuben Fibre material in his "sofa kites".... Doug is working on releasing some plans for some of his xUL active flyer kites....The hawk is one of them....smaller than an iFlite but highly engineered and that cuben fibre material just makes it look soooo techy....
Sale on
Longbottom Angels!
The Large and Medium Angels are marked down. They are beautiful 3d kites that float in the breeze. Also Karl made up some
Tangram flyers
for us too.....sort of like the traditional 3 stick Bermuda style kites, these have been tweaked for better performance and appearance.
There are also only a couple of
6-81
s left from Karl as well. If you are looking to expand your xUL active flying kite bag and want something a little different than the 6-81 is for you!
There is a new kite that will be hitting the pages soon.....the Ginga! Yes, we have had the plans provided from Christophe for some time now, and they were the plans that you could scale to make a couple of different versions of the Ginga. Well, Christophe made up a new size for us! The small Ginga is designed for travel and to be carried around. The same great flight, but in a more portable size!
There is one caveat with the small Ginga though. If you are lucky enough to get one (there are only 5 available) you will have to film you flying it and upload it to youtube! Share the flight!!!!!
Okay....bit of an update here but there will be more to come too...
IF you are in the New England area we will be at the Newport Kite Festival this weekend...down at the old flying grounds of Brent Point State Park in Newport, RI. Swing on by and say hi!
Good winds to you all!
-the newly expanded crew of Windswept Kites