Have you heard?
The newest super sweet xUL gliding kite is coming out before KTAI!!!
ceewan has brought out his new MEGA plutz!
There was a Mega plutz about 3 years ago, but very few were produced,
and extremely few (maybe just 1) are here in the states.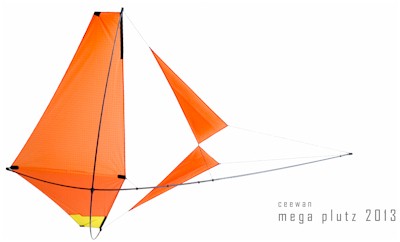 So, if you are looking for a
no wind - low wind
gliding
active flying kite
that is not small you will want a Mega Plutz!
Framed in full skyshark p90s that makes this kite 65" wide and long.........
All icarex for an outstanding colored lightweight skin....
The flight ability that is designed into this is astonishing....seriously....it will climb extremely well in 1 mph wind...and it glides as long as you feed it line....
including the picture that shows the 7 color choices to pick from.
Retail will be 240$ but our preorder price is 216$ and gets you the exact one you want from the first batch.
We are also able to get some of the limited number of the POP Plutz3s as well. These are the model that the Mega is based on (as well as the Prism ZeroG). They are 40" wide/long and only 85$ shipped to you.
Keep flying whether there is wind or not!!!!
WsK