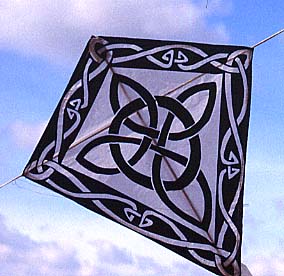 An Arch.....
They are so very simple to fly-stake down one end and roll out the kites across the field and stake down the other end. They will settle down gently if the wind dies. They will relaunch themselves when the wind picks up. Keep them perpendicular to the wind for best flight.
You can create tunnels underneath a series of arches.
You can make a wall across an end of the flying field.
You can make giant arches by connecting the end of one arch to the next arch to make a HUGE arch across the field!
You can stack the arches-with care- to make them look like the Olympic rings as well (takes a bit of setup for that one ;) )
In our personal bags we have one arch that was made by Gary Sharp of NY, a big promotional New Tech Kites arch (it was a gift), and a Boreal Designs Arch. That last one is our favorite.
Eric and Anne make fantastic kites. Most incorporate celtic designs. The kites that they make are all limited series kites so you have to get them while you can!
Previously the Boreal Arch (the Two-Four "
a Canuckism for a case of beer, or 24 bottles"
) was available only in red/white or black/white combinations.
But, Windswept Kites is very honored that Eric and Anne slaved away screenprinting like mad to make us very special arches-PURPLE/WHITE! Yeeha!
We are awaiting this box of arches, and will post them online as soon as they get here so- keep an eye peeled!
WsK